I've been noticing new "labels" being applied to different groups recently, quite interesting from a sociological point of view. Young people from certain cultures (
Guido's
and
Chav's
), young people all trying to express their oroginality, by doing exactly the same thing.
People are talking about these sub-cultures as-if they were a "recent" type of thing, a sub-culture that crosses boundaries, such as Swedish Guidos:
Swedish Guidos!
But these kid crazes are not new. In the USA we had the
Pachuco's
! After WWII up to 1970, the "Chukes" were all the rage, decked-out in their snappy Zoot Suits:

The Pachuco's were the parents of the "low rider", goofy-looking cars that could not clear a pack of cigarettes without bottoming-out: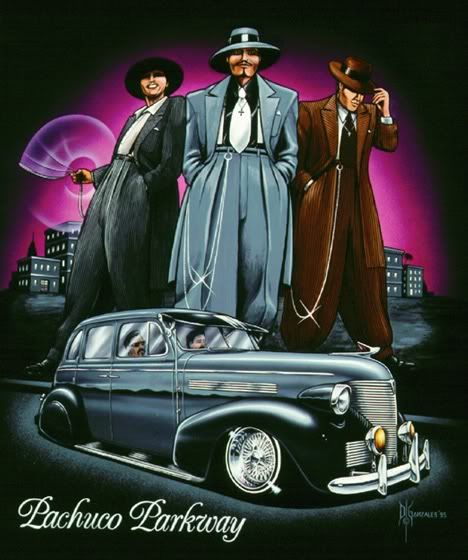 While these chukes were tough, their cars did not go too fast, and other groups took advantage of that! I remember watching kids pull-up alongside a pachuco car and insult their machismo with a taunting "que macho!" (What a Man!), before speeding away!!