This
CNN article
notes that the mint is planning to put the faces of all dead presidents on the new one dollar coins: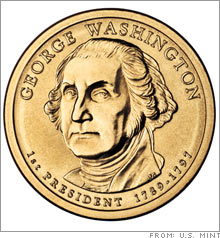 "At the same time, general use of the Presidential $1 Coins is expected to increase use of all dollar coins as Americans become more familiar with using them," Fields said
The Federal Reserve has ordered 300 million George Washington $1 Coins for its initial run."
This site
has some great coin ideas. It all started with the individual State coins, like this Louisiana coin featuring Mari Gras:
I wonder what the other presidential coins might look like? Remember the Ike dollar?
Ah, President Clinton would make a great coin:
And President Bush? Here is a design, of him roping-up Osama:
And how about Governors next? This Arnold Schwarzenegger coin might be nice:
It will interesting to see these new coins . . .