Recently, pious Catholic Mel Gibson was chastised for saying
"What do you think you're looking at, sugar tits?",
to a female police officer.
While everybody knows that Mel is not too bright, he also used horrible grammar.
I'm not a grammar Nazi, but the correct term is "
Sugar Tit
" is always singular, and it's boorish to pluralize it.
The correct term is "sugar tit", never "sugar tits" . . .
But I suppose it's too much to expect proper tit grammar from a drunken Australian . . .
What's a sugar tit?
But most folks don't know that "sugar tit" was a common term in Colonial America, and it was not considered a nasty at all!
There is even a town named Sugar Tit in South Carolina:
Sugar Tit, South Carolina
The town of Sugar Tit has trouble with Yankee tourists stealing their signs, and I hear that they finally gave up making them:
An anonymous thief with a stolen Sugar Tit sign
Hello there, sugar tit!
The phase "Sugar Tit" was never indended to be a nasty word at all; it was the accepted colonial American term for a baby pacifier!
The term "sugar tit" used to be a Southern term of endearment, used when somebody is sweet, and in the 1800's it was not offensive for a gentleman say "
Hello Sugar Tit
" when greeting sweet young a lady.
Unfortunately, people with dirty minds think that it had to do with breasts and it's time to set the record straight.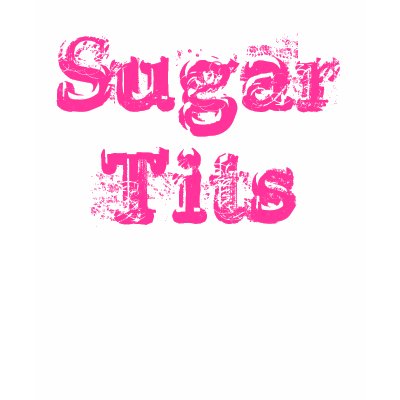 A sugar tit has nothing to do with a woman's breats
Back before they had rubber pacifiers in the mid 1800's, Momma's would soak a piece of cloth or smooth bone in molasses and stick it in the baby's mouth, hence the name "Sugar Tit".
There was also a "gum stick" variant of the sugar tit, made from smooth carved bone which was soaked in a sweet sorghum molassas solution:
A gumstick sugar tit pacifier
Sadly, today we have far more sophisticated baby pacifiers, and the sugar tit has been lost to history: