Janet and I are notoriously thrifty and we always turn a nickel over twice, which is the main reason that we don't have any reliable transportation! We have skimped and saved for years, and friends and family have encouraged us to go forth and buy a luxury car.
Our kids feel guilty at the prospect of inheriting money, and they want us to spend it all before we croak, and that's OK with us.
We have five vehicles now, but they are old, crappy cars (several of them don't even start), and we decided it was time to get some reliable transportation.
Ole Yeller is getting old - Time for some new wheels
We checked-out the Cadillac's and we were not impressed. The Escalades are truly a land barge. You need a ladder to get in them, they drive like a tank, and are super-hard to park (they even have a back-end video camera!).
The land barge - Hard to drive, harder to park
And talk about crap that you don't need, junk to break-down, like individually heated and air conditioned seats. If I want my seat to be warm, I'll just rip one into the cushion . . .
Luxury or not, we decided that the Cadillac sedans are for old coots and codgers, so off we went to the Rolls Royce dealership.
Rolls Royce dealers don't sell new cars!
Our first surprise was that the Rolls Royce dealerships will not see you without an appointment! They don't answer the phone when you call, ostensibly to get your name and phone number so that they can do a credit check on you.
One epiphany is that you cannot buy a new Rolls Royce at the dealership! That's right, you have to plunk-down $400k and wait six months for delivery!
That's no fun.
They say that a new car loses half its value as soon as you drive it from the lot, and the Rolls Royce is no exception! One from last year had depreciated in value by 50%, to only $200,000!
At 4,000 miles, that's fifty dollars per mile depreciation, a very expensive ride!
Jimmy shows Janet a used Rolls Royce
The Rolls Royce dealer was super-friendly, and sold us on the quality and craftsmanship of a Rolls Royce. The numbers indicate that buying a high-end vintage car would give us the luxury that we wanted, without the grief of losing our hard-earned money to depreciation. Better still, you can buy a classic car, drive it for a decade, and sell it for more than you paid for it!
We chose this 1972 Rolls Royce Silver Shadow long wheel base sedan:
Old, steady and reliable - Just like us!
We went to
Motorcar Investments
, a dealership in Cary that has restored classic cars like Maserati Porsche Rolls Royce and Ferrari, all gently used, but way cheaper than new.
It's run by Larry Daniel, a UNC graduate and car buff, who did a great job in educating us about the process of investing in a vintage car. Here is
us at the car lot
.
Larry has an amazing Shelby Mustang for sale, at only $750,000: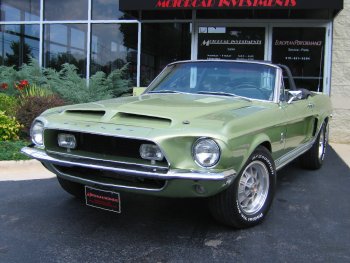 If you like to invest online, you can also buy
Rolls Royce's on eBay
for great prices.
Our Rolls Royce extremely well-built, costing $50,000 in 1972, and it only has 78,000 original miles! Best of all, she was cheap, costing less than $20,000, and she is seriously fun to drive, which is a luxury to us!
And it has an 8-track tape player!
See my complete notes here on
buying classic cars as an investment
.